Magifest 2023 Preview: Margalit Fox
By Vanishing Inc. – Sunday, October 30, 2022
---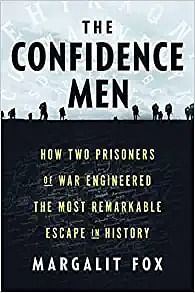 It is truly an honor to have former Senior Writer for The New York Times Margalit Fox on hand at Magifest 2023 to discuss the enthralling tale behind her bestselling book The Confidence Men. Recently named one of the best books of the year by The Washington Post and NPR, this captivating true story explores how two World War I prisoners utilize magic and mentalism techniques to concoct one of the most cunning escape plans of all time.
Our own Joshua Jay couldn't put The Confidence Men down once he started, and we're so excited to have Margalit join us to talk about the book and sign copies.
Until then, let's play a fun game of two truths and a lie.
---
Margalit has interviewed two U.S. presidents.

Margalit wrote Charles Manson's Obituary.

Margalit has had the police called on her at least once.
REVEAL LIE

#1 is the lie. Margalit has lived a fascinating life. If you're curious about the police incidents, be sure to ask her about it as Magifest.

Did you guess right? Let us know in the comments below!

---
---
Similar posts on the blog: