Vanishing Inc. Black Friday 2021 Gift Guide – The Best Magic Tricks You May Have Missed
By Vanishing Inc. – Tuesday, November 23, 2021
---
Anyone who has been a longtime member of the Vanishing Inc. family knows that we'll do pretty much anything to provide the best possible experience. So, each year, we dedicate months to planning how we can make our Black Friday sale better than any previous year.
One thing we slightly overlooked though was that, as we grow our Black Friday sale each year, it has become a tad overwhelming. With so many amazing discounts, it can a be a bit difficult trying to find the best deals.
We were going to give you our recommendations, but then decided it might be best to just go straight to the source. So, here are the best magic trick deals in the Vanishing Inc. Black Friday 2021 sale according to magicians like you that shared their thoughts on all our different social media platforms. Thanks to everyone who made a suggestion.
This is the single best way to end your card magic set or ambitious card routine. A deck of ordinary playing cards transforms into a deck of completely transparent cards in the spectator's hands. Every single card disappears, except their signed card. It's like the classic "Omni Deck" from Jerry Andrus on steroids. Especially since you can even handle, cut and fan the "Phantom Deck" like a normal deck of cards.
P.S. "Out of Sight", the effect Joshua Jay used to fool Penn & Teller, is also on sale. This effect is basically always sold out. So, if you've been wanting it, don't miss your chance.
---
Despite the fact that Asi Wind's "Double Exposure" was performed by David Blaine on national television, it continues to be a criminally-underrated piece of magic. We're sure that any magician who performs it regularly won't be thrilled that we're attempting to bring it to a mainstream audience. However, we think every magician should have a chance to check out this mind-bending impromptu Triumph effect using just an ordinary deck of cards and a borrowed cell phone.
---
Before cementing his place as one of the most successful mentalists and performers of all time, Derren Brown cut his teeth as a close-up card magician. When he released "The Devil's Picturebook" in 1999, it was clearly ahead of its time. This one-of-a-kind look at the way Derren constructs routines introduced the magic community to his signature audience-centric focus.
"The Devil's Picturebook" DVDs eventually sold out and were never reprinted. As Derren's fame grew, magicians around the world clamored to get their hands on this beloved collection of effects. Many paid an exorbitant amount of money on the secondary market. Now, this incredible collection of amazing card magic has been remastered as a magic download. At 50% off, it's probably the biggest steal in our Black Friday sale.
---
What if we told you that you could perform an invisible deck routine without needing a gaffed deck. Using an ordinary deck of cards that can be examined at the end, you can have the spectator name a card and then show it's the only one reversed in the deck. For less than the cost of a sandwich, you can learn everything you need to perform this miracle from an underground card magic legend.
---
This is probably the biggest sleeper on this list. It's one of the rare releases that magicians go out of their way to tell us how much they love it. Is it a premium Vorst & Bosch close-up pad? No. But, it is the biggest, toughest and most portable casual close-up pad on the market today.
"Giant" doesn't really do it justice. This thing is truly huge. It's the finest casual close-up pad at a price that was already ridiculously affordable to start. You can roll up the "Giant Close Up Pad" and toss it in your luggage or backpack, pop it behind the bar without worrying about it getting spilled on or even use it to transform a table into an impromptu close-up performance space. Anyone who uses black art may have also noticed that it is the PERFECT pitch black color. At 40% off, this is one deal you'll kick yourself over if you end up missing out.
If you really want a premium luxury close-up pad though, you can't go wrong with V&B. They make the finest close up pads in the world and, for some reason, they've allowed us to sell the last few remaining "V&B Limited Edition Shin Lim Pads" at 50% off. There's never been a world-class mat like this at a price this low.
---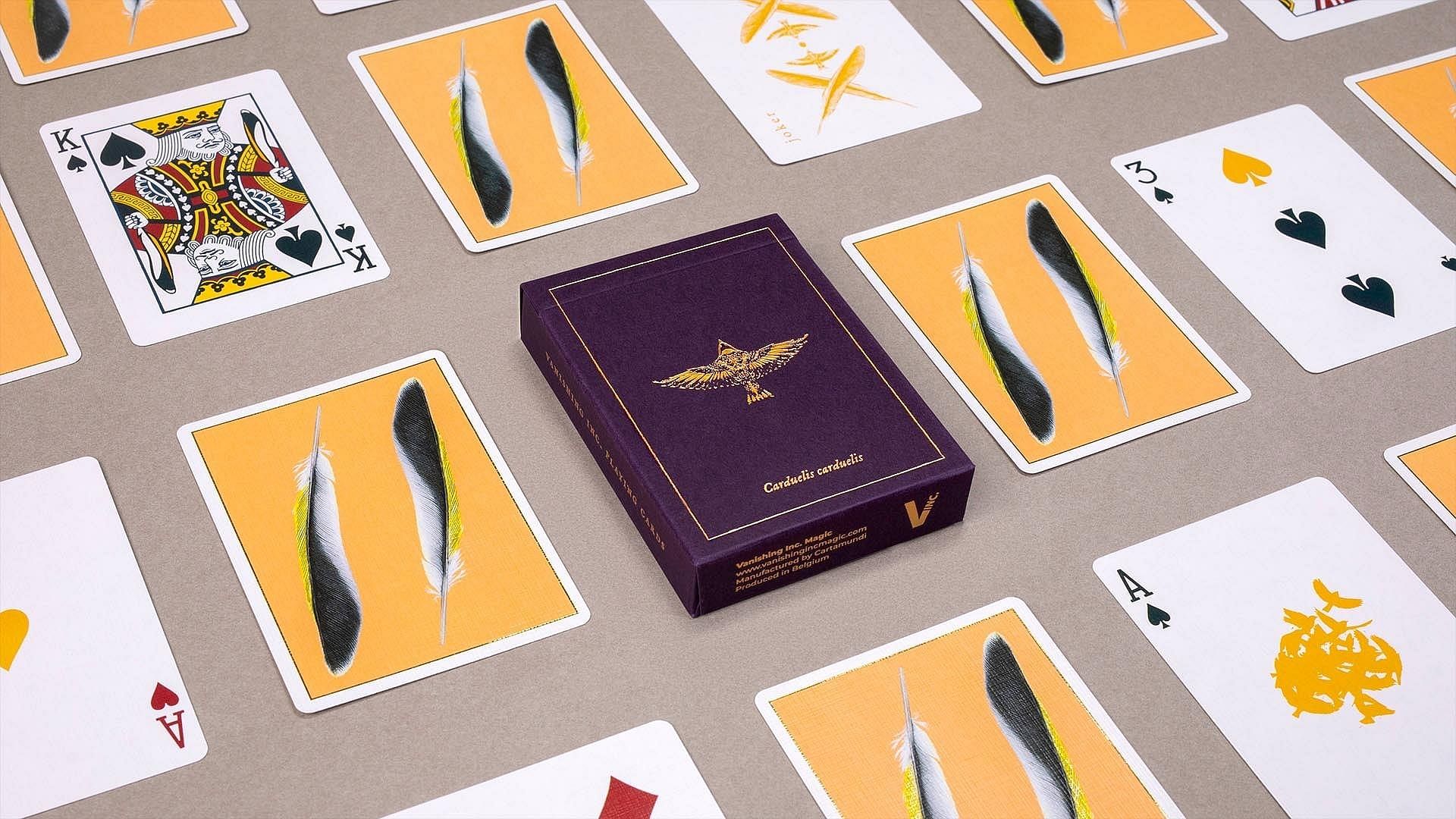 At the time of writing this, our Black Friday sale is a little over a week old. That means enough time has passed for the initial wave of orders to start arriving. And, without a doubt, one of the products we've received the most emails about is "The Feather Deck". Countless magicians have let us know that they completely regret sleeping on these unique playing cards when they were first launched. These hand-drawn custom beauties are, as one magician put it: "quite possibly the most gorgeous deck of cards I've ever held".
We get it. It probably feels like we might be a tad biased on this one. And, we can't lie, we kind of are. Every single member of our Vanishing Inc. team owns a bunch of "The Feather Decks" in both colors and we absolutely LOVE them. Our only complaint is trying to decide which color we like more.
Adorned with the perfect about of subtle gold foiling and printed on premium crushed stock from Cartamudni, "The Feather Deck" handles as good as it looks. At full price, they were already a must in any playing card collection. At half price, they're a no-brainer to swap out as your new favorite EDC.
---
In response to our mentalism friends asking us to show more love to the mentalism community, we've really upped our amount of mentalism offerings over the last couple of years. Effects like Luke Jermay's "HIT" and Ben Seidman's "The Oracle System" (which are also both on sale, by the way) have been some of our perennial bestsellers that most members of the Vanishing Inc. family are familiar with. But, "The S.T.E.M. System" from Peter Turner is a hidden gem in the sale that you might not have seen yet.
Peter Turner is beloved among modern mentalists. His distinct style of thinking and organic approach to mentalism has truly been revolutionary. In this one-of-a-kind DVD, he teaches the secrets to creating mentalism tricks that are untraceable. This is a 4-hour, down-and-dirty guide to developing truly amazing mentalism that can withstand the scrutiny of recorded performances like YouTube videos or TV appearances. You really must take advantage of this chance to learn from a master mentalist at an absurd 60% off.
---
We realize that this gift guide has unintentionally turned into a bit of a Joshua Jay lovefest. What can we say, it seems the people have spoken and this Joshua Jay fellow knows how to make a pretty decent magic trick. The one creation of his we get asked the most about though is, without a doubt, "Balance". Multiple times a week we get emails asking when "Balance" will go on sale again. The answer is right now. As of writing this, there are only a handful left in stock. So, if you've been waiting to grab it, now is your chance.
---
PLEASE NOTE: Sale prices are stock dependent and may change after this article has been posted. The listed price on the individual product page is the most accurate price.
---
---
Similar posts on the blog: