We're Back From MAGIC Live
By Joshua Jay – Wednesday, May 25, 2022
---
Last week 1,600 magicians from around the world gathered in Las Vegas for a convention that we might frame as magic's Oscars: big stars, tastemakers, new talent, and dealers gather for a celebration of the craft. Vanishing Inc. and our founders played a big role in the festivities. Here's our team's admittedly biased take on the event.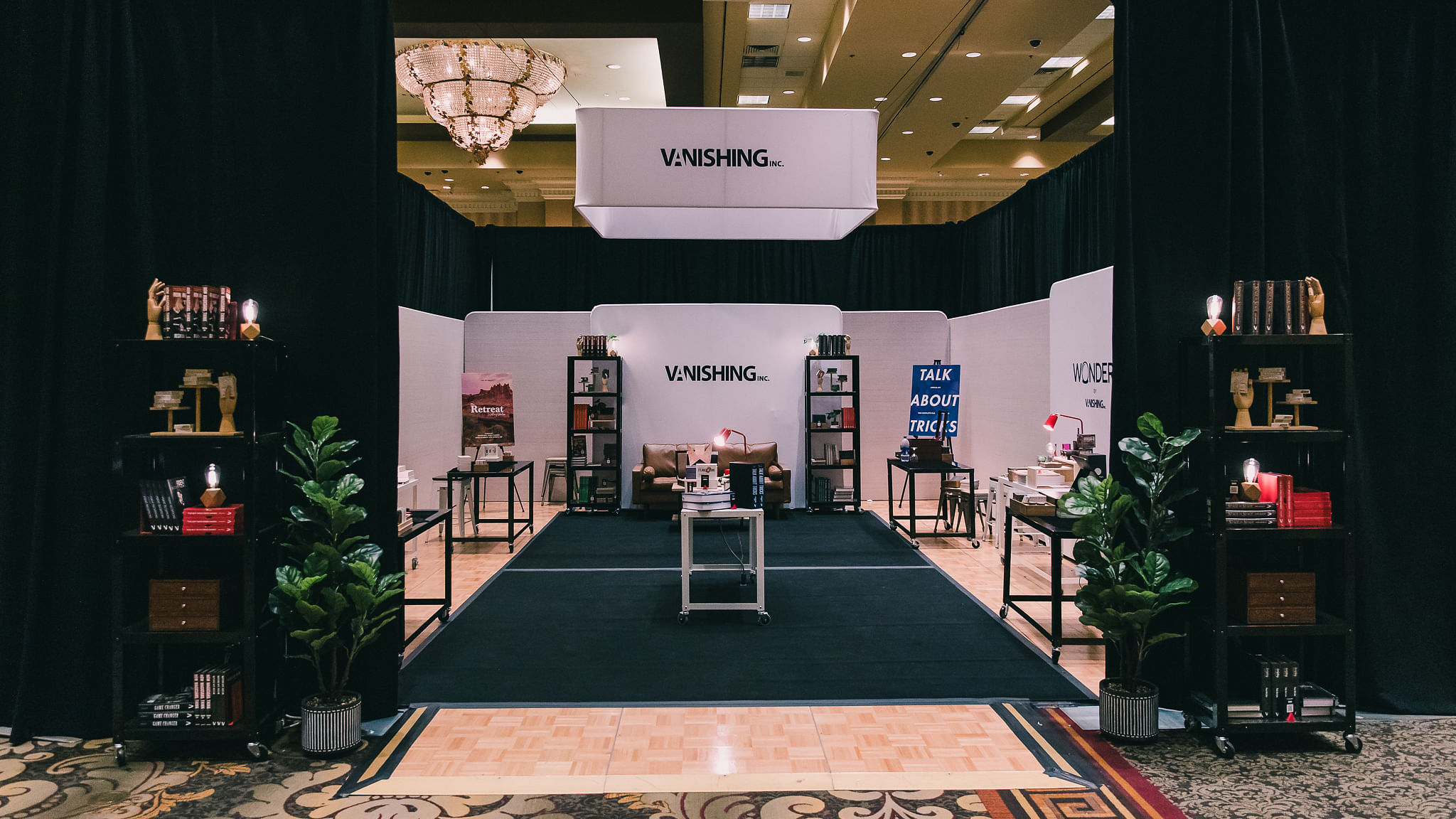 Vanishing Inc. had a marquee booth in the dealer's room that was one of the two largest exhibition spaces in the exhibitor's hall. We wanted to take a big step forward for our brand, so we brought in an interior designer to custom-build a showroom that glimpsed what we felt captured the ideals of a modern magic shop.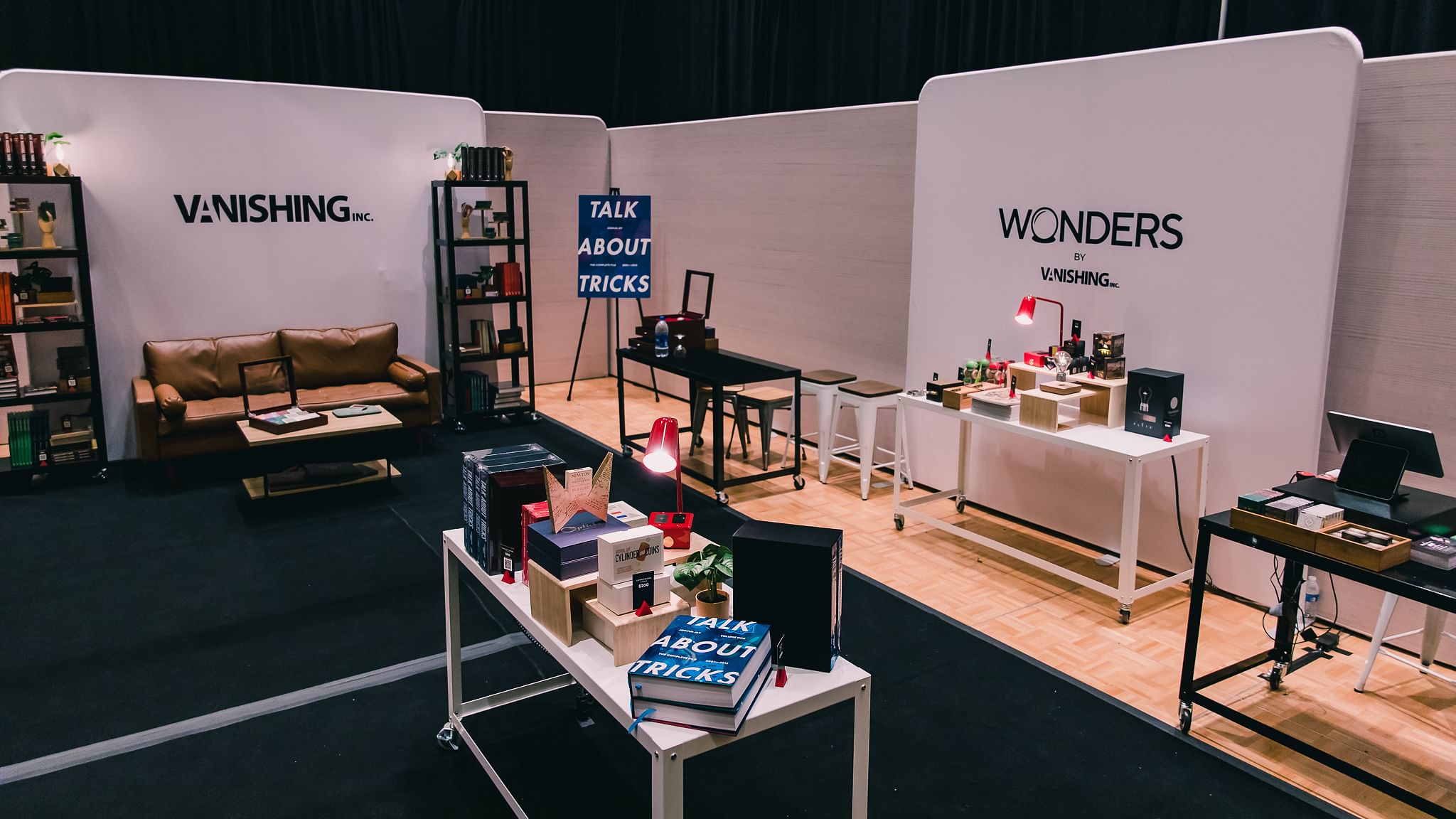 A comfy leather couch and stools formed the heart of the booth, so our customers could sit down and chat with us about magic. Throughout the weekend Joshua Jay taught sleight-of-hand there and took requests, and Andi Gladwin chatted magic and performed tricks from his book. "For us it isn't about sales. It's about meeting our customers face to face," Andi Gladwin said of the weekend. "And we wanted a booth that expressed that."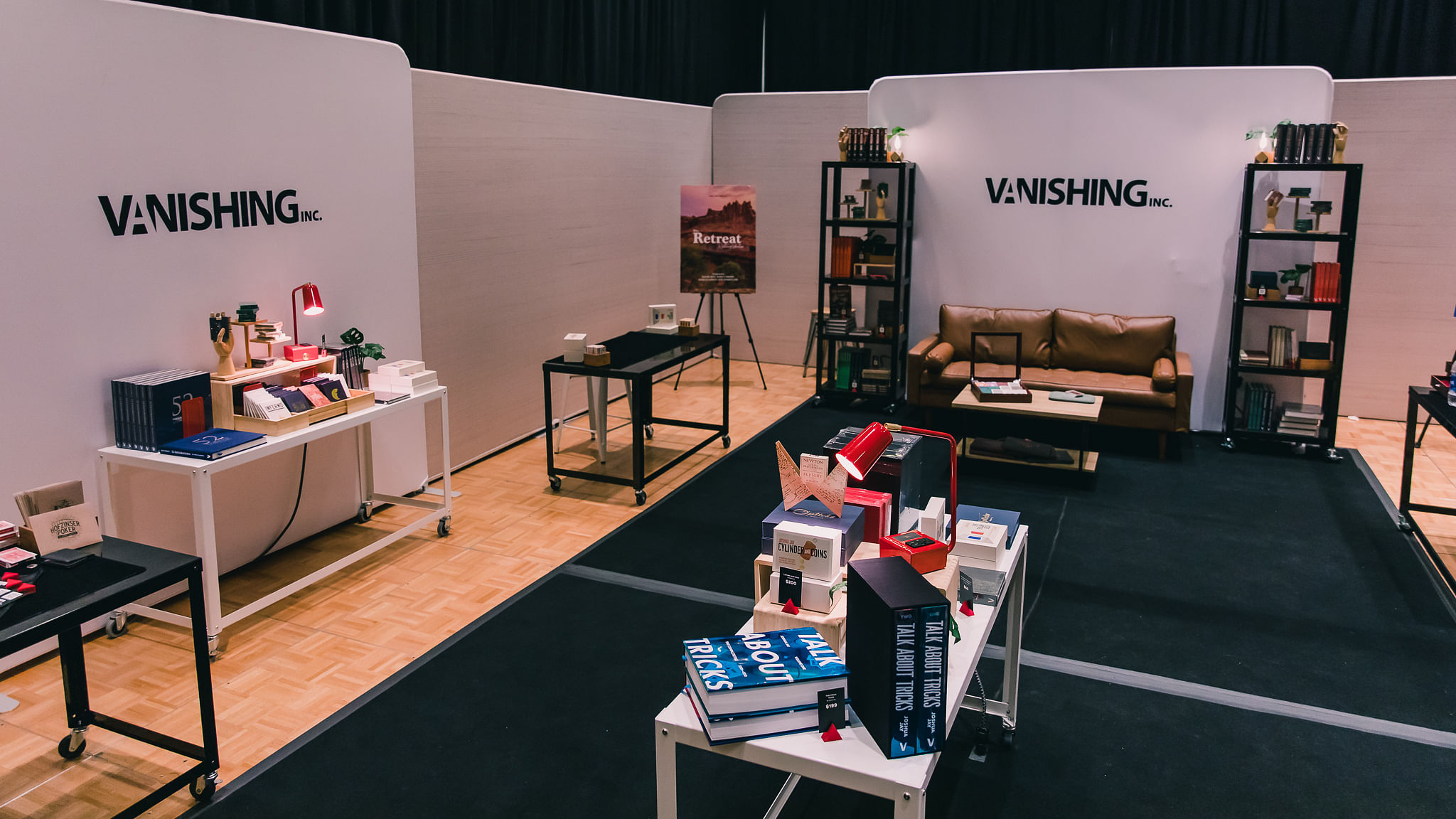 We had four demo stations, and Christian Grace was our guest performer, demonstrating his fantastic tricks, new and old, from our line. "LevelOne" and "MiracleOne" were complete sellouts.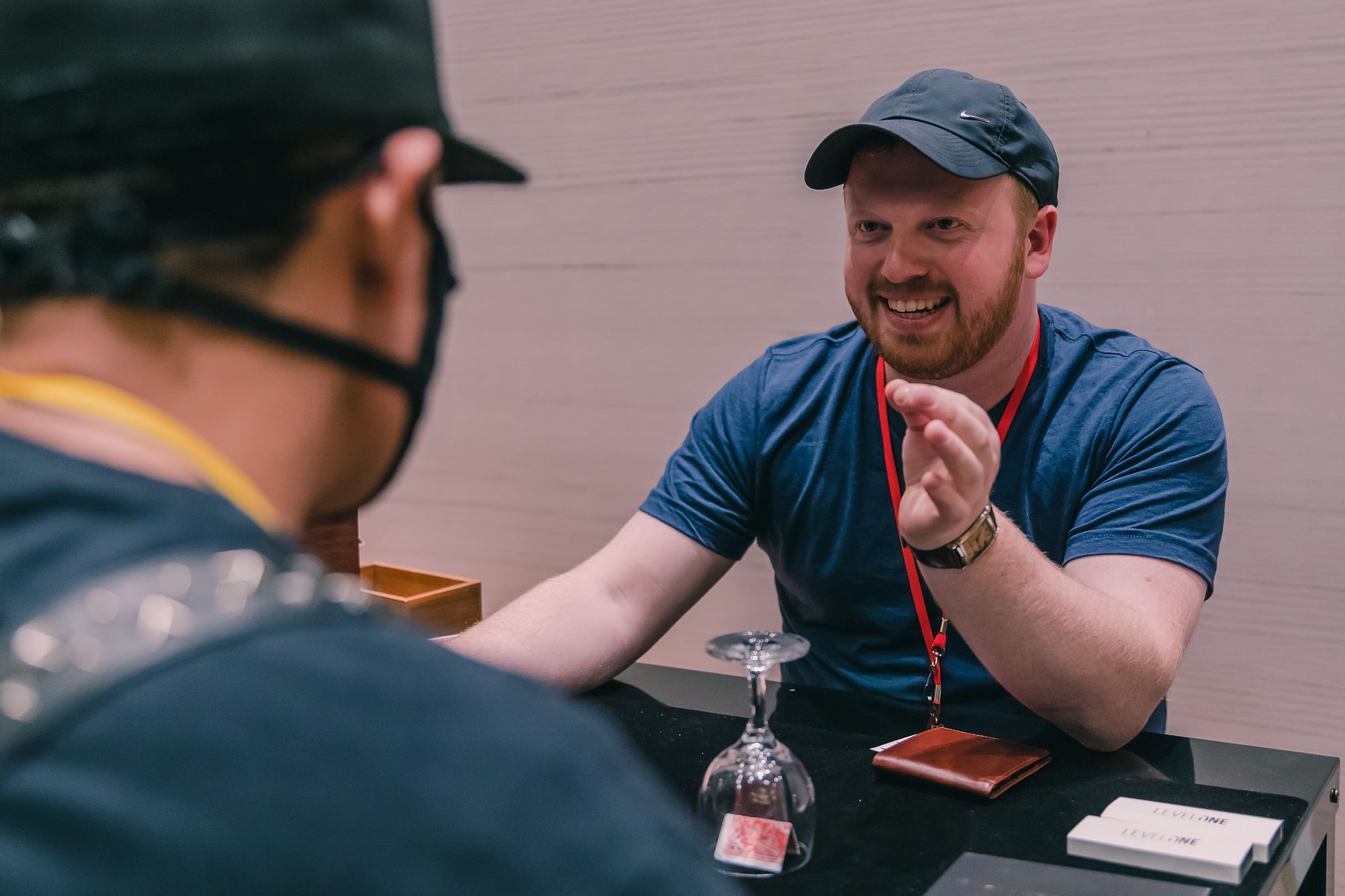 Unlike most booths, that focus on packing shelves with tricks, our booth had a sparse, clean, modern look, with accent lights and plants surrounding our latest book releases. Convention attendees got an advance look at upcoming projects that haven't been released yet, like Joshua Jay's "Cylinder and Coins" and 52 Explorations by Andi Gladwin.
"Big Picture", our newest effect, was also a total sellout. We sold through six boxes of this Kyle Purnell effect and everyone was buzzing about it. Watch the trick here: it's great.
Our two cofounders weren't just at the booth. They also had big roles at the convention itself.
This year marks the 20th anniversary of Joshua Jay's "Talk About Tricks" column in MAGIC Magazine. To celebrate the occasion Joshua delivered a rapid-fire presentation on his very favorite impromptu card material from the twelve-year run. This included effects by Ed Marlo, Bebel, Yannick Chretien, and Joshua himself. To commemorate the occasion, we're pleased to announce a two-volume bound edition of the complete file of Talk About Tricks, released in partnership with MAGIC Magazine. This beautiful two-volume set is home to all 868 tricks described in the column, and boasts material from nearly all of magic's modern luminaries. The see-through wrap covers and slipcase make this an absolutely gorgeous set, and the advance copies were entirely sold out by noon on the second day. The event, and the book set, were a big hit. You'll be hearing more about the release of Talk About Tricks in the coming weeks.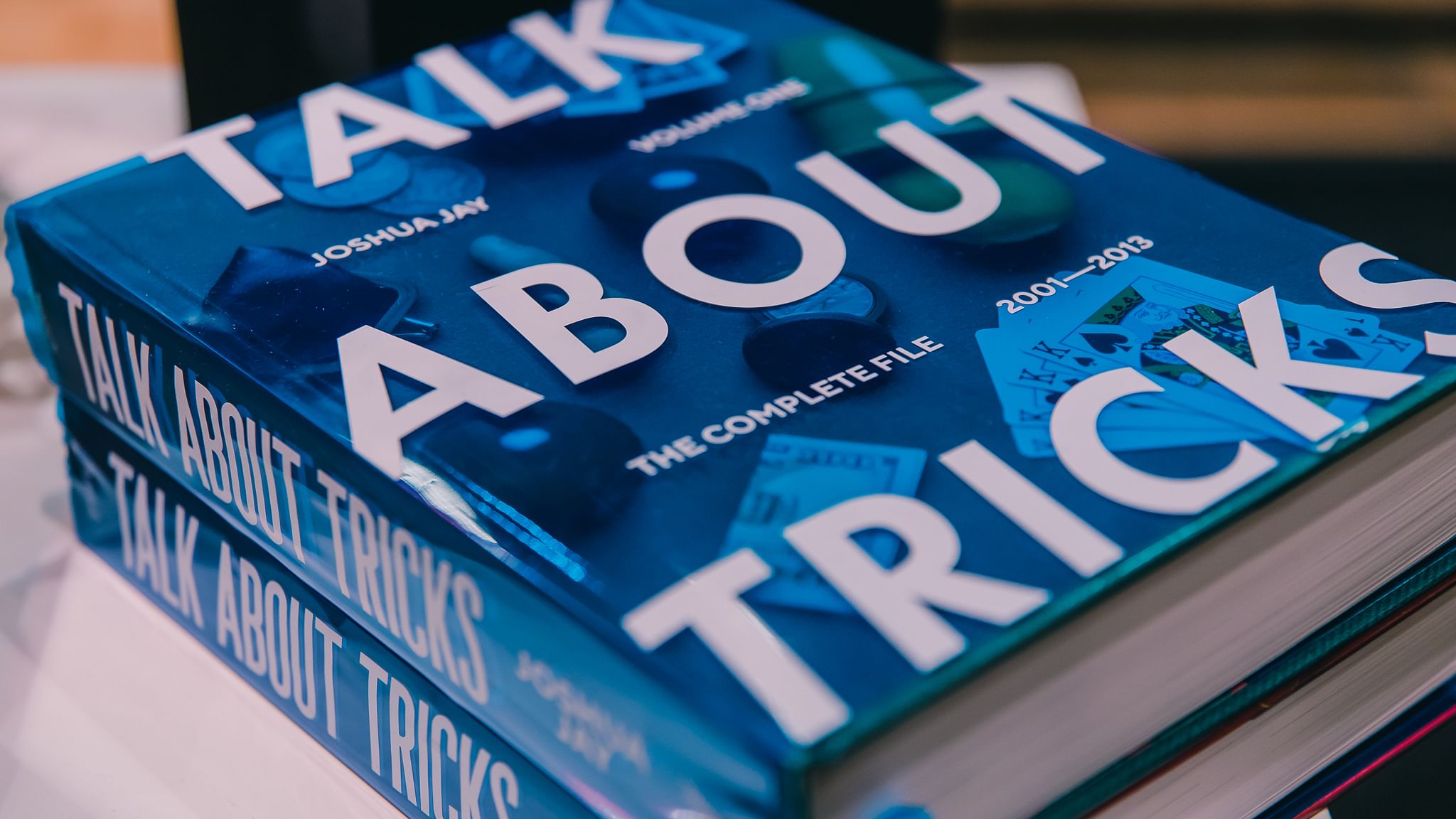 Andi Gladwin delivered a keynote address in the last General Session, and received a standing ovation for his efforts. The talk is all about piracy in magic, and chronicles the team's crazy adventure to track down one of our industry's most dubious pirates. Andi's talk energized the convention and shone a light on a troubling issue in our industry. You'll be hearing more about this in the months to come as well.
What else happened?
So, so much. Too much to recap in one email. But here are some highlights from the perspective of our team.
The close-up show featured Pit Hartling (doing several tricks from his fantastic book, In Order to Amaze), Shoot Ogawa (who did a lovely routine turning rocks into coins, and then the coins back into rocks), and Asi Wind (who brought down the house with a routine in which each audience member creates a playing card, and those cards are assembled into a kind of "audience" deck). We applaud the organizers for having the bravery to do a short but incredible close-up show. We need more of this in magic: hit hard, weed out any weak points, and then let us go hang out with our friends.
Nate Staniforth delivered a fantastic lecture on how heighten the impact of your magic. He talked for 30 minutes and then performed a devastating effect that floored the room. Then he taught it. Pure brilliance.
David Regal gave an insightful talk on the relationship between method and effect (and why magicians tend to prioritize methods). Jason England interviewed Derek DelGaudio, and while it was way too short, Derek was as fascinating as you would expect. Asi Wind gave a talk on his Fool Us performance, and it was at turns hilarious and fascinating. What started as a Tommy Wonder inspiration morphed into something really profound, and he shared that step-by-step journey with us.
Carissa Hendrix and Meredith Levine, her writing partner, delivered a fascinating talk on how to make your magic more data-driven.
Everyone walks away from after MAGIC Live is an overwhelming feeling of camaraderie. There were great parties to hang with friends, a lounge to jam on magic, and a dealer room full of all the latest, greatest stuff.
Now Andi is off to California on Vanishing Inc. business and Josh heads to Paris for a show.
And during all this chaos, we're still putting the finishing touches on our own convention, The Session. After being postponed twice thanks to Covid, this is the London convention we've all been waiting for. And we all deserve. Find out more here.

Book your ticket for The Session
Signing off from Las Vegas,
The Vanishing Inc. Team
---
---
Similar posts on the blog: